Where to Buy
Shop delicious full flavor, caffeine-free coffee right here – or directly from our many partner roasters and online retailers.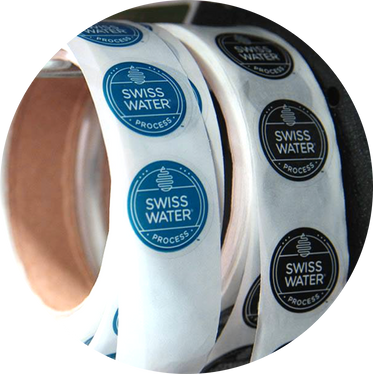 When You Know, You Know
Look for the Swiss Water® logo or wordmark wherever you shop, to be sure you are getting the highest quality chemical-free decaffeinated coffee.
Our curated decaf store is a great place to discover your new favorite coffee without caffeine.
Shop Now
Café Locator
Looking for a great cup of decaf? Search here for cafés and retailers that sell coffee decaffeinated with the chemical-free Swiss Water® Process.
---
Closest to you:
*Note: this is not an exhaustive list of all partners. Due to the seasonal/rotating nature of coffee, we recommend confirming current offerings with the café.
Just some of the great roasters we work with.
We might be a little biased, but we think these roasters make some of the best caffeine-free coffee around. Meet our partners here.
FAQ
Do you sell any regular coffee?
As decaf experts, our Coffee Store is uniquely curated to bring you some of the best decaffeinated coffee out there. On this site you will only find amazing coffee without caffeine—real coffee that you can continue to enjoy at any hour of the day or night. 
How do you select the coffee?
For this project, we teamed up with just a few of the wonderful, talented coffee roasters who use Swiss Water as their decaffeination process of choice. Check back often to find offerings from more great roasters, as we're always adding new selections to the store. 
How do I manage my account?
You can login to your Coffee Shop account here, look up past orders, and manage your Curated Coffee Subscription. From your account you can update any of your shipping or billing information, change the frequency of your deliveries, or skip a delivery when needed.
Are the coffees on the webstore flavored?
No. While flavored decafs do exist, as a chemical-free process, we love to celebrate each coffee's own unique characteristics. The flavor notes you see under the "cup" description are the tasting notes each roaster has found (as in wine) to describe the flavors a coffee evokes from its own natural terroir and roast profile. No flavoring (or anything else) has been added to the coffees on our store.
How is my coffee shipped?
Once your order is complete on our store, it's sent over to the roaster directly. From there it will be roasted to order and shipped directly to you from the roaster's location for the best and freshest coffee experience. You'll know it's arrived when you see the custom Swiss Water box! 
How do I track my order?
When your coffee is roasted and on its way to you, the tracking number will be emailed to you. Deliveries are usually shipped via USPS and we aim for 3-4 days delivery time, depending on your location. Please take note when you order that not all roasters roast and ship 7 days a week, so there may be some lead time before your order is ready at the roaster itself. We indicate this on the coffee's order page itself whenever possible.  If you order coffee from multiple roasters, you will receive an e-mail with tracking information separately for each roaster.
Who can I talk to about my order?
Give us a shout at info@swisswater.com and we'll solve all your problems. At least the coffee-related ones. 
How do you decaffeinate the coffee?
The Swiss Water® Process removes caffeine without using any chemicals like methylene chloride or ethyl acetate. Check out more about how we remove caffeine here. 
Coffee Store Terms & Conditions
Our Coffee Store Terms of Conditions can be found here for your review.
Ask Us Anything
Questions? Comments? Accolades?
We're here for all of the above.
Get in Touch