Back to Shop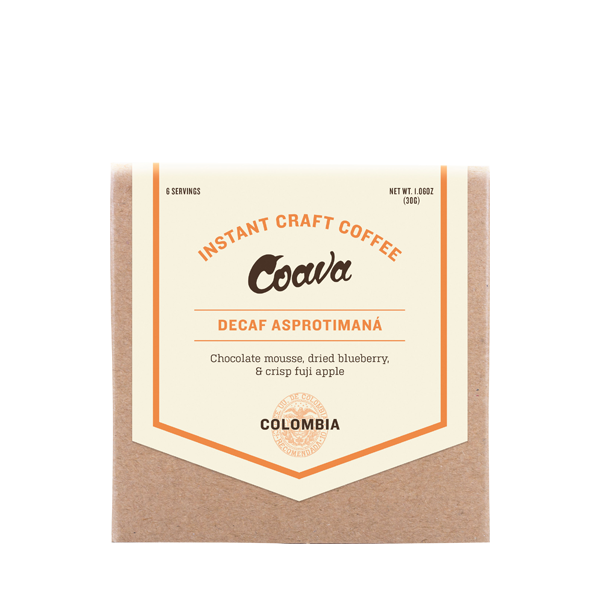 Instant Colombia AsproTimanà
Our partners at Coava Coffee are proud to maintain a relationship with innovative fourth-generation Colombian farmer Robinson Figueroa, General Manager of the ASPROTimaná Cooperative in Huila. The cooperative originally came together out of a shared vision of socioeconomic stability for coffee farming families. It has since grown to include over 850 members from 22 villages around Timaná, with more joining every year. This coffee is made up of Caturra and Bourbon varieties grown between 1400-1700 meters, and features rich notes of chocolate mousse, dried blueberry, and fuji apple.

Decaf ASPROTimaná is offered in instant form for enjoyment right here, right now, on the go, from Coava and their talented partners at Swift Cup. Just add water (hot or cold), stir, and enjoy. One box makes 6 cups of coffee. 
NOTE: Coava ships coffee every Monday and Thursday. Place your order before Tuesday 12PM PST to get included in that same week's shipment. Orders placed by Friday 12PM PST will roast and ship the following Monday.
Roast Level:

Medium

Grind:

Instant/on-the-go

Origin:

Colombia

Region:

Huila, Timaná

Growing Altitude:

1,400-1,700 MASL

Variety:

Caturra, Bourbon

Cup:

Chocolate Mousse, Dried Blueberry, & Crisp Fuji Apple
Subscribe to your favorite offerings! You'll get the same coffee (or coffees!) you've come to love each time, shipped fresh directly from the roaster to your door, at the frequency that works best for you.